Discover more from The Duckpin
A media venture from veteran Maryland writer and podcaster Brian Griffiths. Politics, Culture, Entertainment, Sports, and More.
Over 32,000 subscribers
An Interview With Iroquois History And Legends podcast hosts: Caleb and Andrew Cotter
Taking a deep dive into one of the best history podcasts around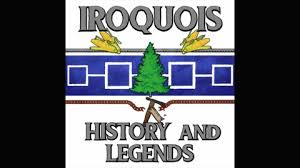 With the conversation in sports and in the broader political spectrum suddenly being focused on some Native American issues such as team names and the jurisdiction change in Oklahoma, I was reminded of the importance of educating myself in the history of this county. One of the best ways to do that is to find people who are extremely knowledgeable in our history as a country. There are very few people I know who know more about any one subject than Caleb and Andrew Cotter know about Iroquois history. Their podcast Iroquois History and Legends tells, with in-depth research, the story of the Iroquois and resulting interactions with the European colonists and the United States. Listening through this podcast sheds a lot of light on the early period before and after our country was formed from a unique perspective. It also shatters a lot of myths that are held about Native Americans such as the idea of the "Noble Savage" or that their ways were primitive. I set out to have a conversation with Caleb and Andrew about their podcast, how it came to be, what work went into it and some of the information they have learned. I strongly recommend listening through this podcast if you are at all interested in the history of our country or the history of those who came here before the colonists. 
Before we start, some links: their website, Stitcher, Apple, iHeart and Spotify.
Father Keanu: Hi guys, thanks for agreeing to the interview. As you both know; I love your podcast. I would say I have listened to about 95 percent of it (I haven't caught up on a few new episodes yet). I am fascinated with local history, and as a resident of Canandaigua NY, there is nothing more local than the interaction between European settlers and the Iroquois. I have also known you both for around 10 years now, and I recall seeing the Iroquois flag flying in your yard before this podcast started. Can you tell me your family history with the Iroquois and how that formed your own personal interest in this topic?
Andrew: I'd say it first started when I was ten years old and our dad dragged us to this boring Ceremony commemorating the 200th Anniversary of Peace between the Iroquois (Haudenosaunee) and the United States. It was a big deal at the time. Our dad taught us the importance of honoring treaties and to keep your word.
In school we had lots of stories on Haudenosaunee legends and their culture but almost nothing on their history. As I grew older I appreciated all that boring stuff my dad made us learn about. As I was able to read and learn myself I became aware of how this history was not boring. In fact is was downright riveting and pivotal to our nation. This people group wasn't led by Chief Wahoo but a matriarchal representative republic.
Caleb: Much like Andrew, I was dragged to treaty days by my father. This was my first experience with the Iroquois, needless to say I didn't really understand or care what was going on.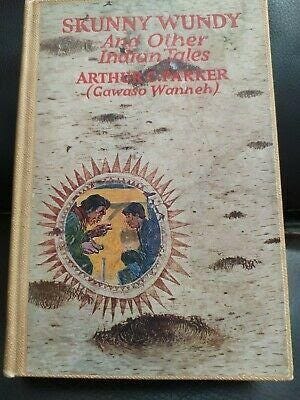 When I joined Boy Scouts, I became a member of the Order of the Arrow. This was a BSA honor society that had a Native American theme. I remember a Seneca story teller telling us a fable about a fox and raccoon. I later got a copy of Arthur Parker's Skundy Wundy compilation of Seneca tales. I read the stories so much I had memorized them and began telling them at boy scout campfires. Later in life, American history became a hobby of mine, and I was surprised to see little Blurbs of Iroquois involvement continuously popping up. I remember telling Andrew, "You know, nobody has really done anything extensive on the Iroquois involvement and influence on America. What do you think about starting a podcast on it?" We spent the next few years researching but didn't really know what direction we would take the show. Would we do a historical narrative? Or focus on the legends and stories? We ultimately ended up doing both.
The Father: Andrew, since you took the conversation in the direction of Iroquois government, I want to ask you a question about that. At The Duckpin, a lot of the writers and readers have a strong interest in politics, and in the history of the constitution and American governance. It might come as a surprise to some to see the significant parallels between our constitution and representative democracy and the Iroquois constitution and representative democracy. Can you give us a little taste of how that was set up?
Andrew: The Iroquois Constitution most definitely influenced many of our founding fathers.  Especially everyone's favorite homeboy, Ben Franklin. He was writing about their system of representative government decades before the Revolution. Franklin, John Hancock, George Washington and Tom Jefferson all had many interactions with the Six Nations (Seneca, Mohawk, Oneida, Onondaga, Cayuga and Tuscarora) and the first two were even given Iroquois names. Although the Founding Fathers drew inspiration from ancient Rome, and the Greeks, the Iroquois were most certainly in the mix as well.
The two main comparisons are the separation of powers and representative government.  A man was appointed to an office for life but he could be impeached if the women from his tribe thought he was not living up to their standards. There was also a distinction between the Senators in civil government and the army. You could only be in one. The big influence was the fact that they were six different "States" but were held together in a central governing council. Just like our States vs Federal Government is today. Franklin wrote once in his paper that if the Six Nation had a unified government and all get along, why can't we? 
The Father: Caleb, I will address this question to you. You mentioned in your reply the amount of research you both did on this topic. Can you give us an idea of the amount of time you spent on each episode? I know from listening you drew from a large amount of sources.
Caleb: For an average historical episode, I spend about an hour a night for one to two weeks, so between the two of us about 10 to 20 man hours. Mind you, it's actually much more than that if you count the research prior to the show starting. Due to the vast amount of reading we did on the Iroquois history from 1600-1800, we were able to lean on what we already knew for many episodes. The episodes lately have taken 3X longer to produce than in the past. This is because the show has moved from the colonial era in which we were well versed to the Civil war era. 
Our legends episodes are our own twists on Iroquois stories. We normally do two tales per episode. Andrew will do one, and I will do another. We can normally write them in an evening, and then do the voice acting the following night.
The Father: I am not surprised that so much work went into that. One of the best aspects of the podcast is your realistic looks at the characters from both sides... the Iroquois perspective and the Colonial perspective. You are both very honest with the characters, pointing out strengths and weaknesses. You show good and bad done by each side. One aspect of the history I found very interesting was the scope of the Iroquois and the power of their union during the colonial era. Andrew, could you give us a quick look at the size and power the Iroquois possessed during that time?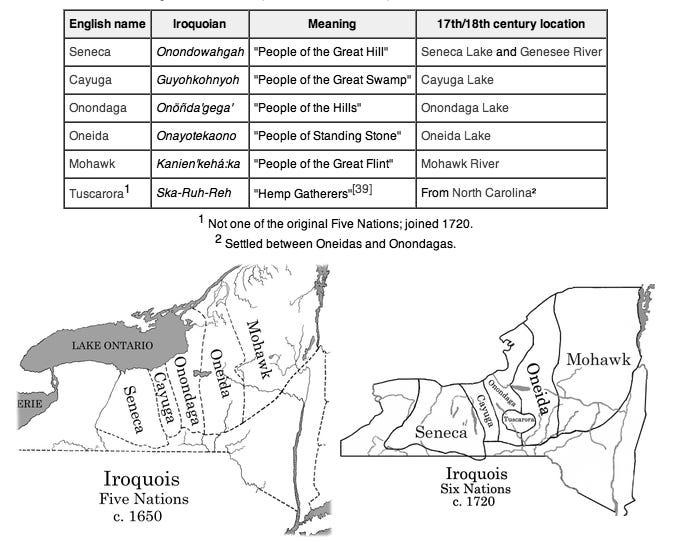 Andrew: Twelve thousand (members). Yep, that's it.  The Six Nations were probably just that.  75-90% of the population had died years before due to diseases that were introduced inadvertently by Europeans. So Covid isn't so bad in a historical perspective. Even though their numbers may have been small, they expanded quickly when they acquired firearms in the mid 1600's. Within 50 years they had dozens of vassal tribes from New York to Illinois and Kentucky. Pretty much all trade and diplomacy in those regions was nominally governed by the Iroquois up until the mid-1700's.  Not a short amount of time.
The Father: Moving forward from that point in the 1700s, the war between first France and Britain was first, then the war between Britain and the colonies. While it is important for context, I will skip France/Great Britain and move right to the Revolution. Caleb, what role did the Iroquois play in our nation's Independence (good or bad)?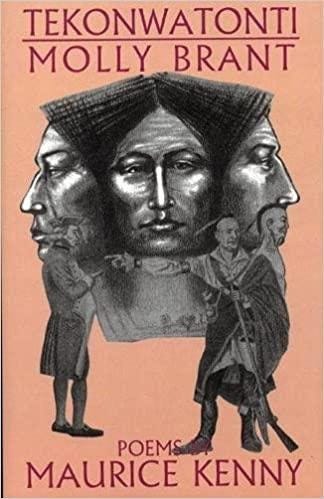 Caleb: The Iroquois had a huge role in the northern campaigns of the revolutionary war, but it was not an unanimous decision among them. You have to remember, the Iroquois were a league of six autonomous nations and different convictions pushed different nations to each side. The Mohawks, in particular, took a very large part in supporting the British.  Some of the prominent leaders amongst the Mohawk were the Brant family. Joseph and Molly Brant were married into the family of the British Indian affairs agent Sir William Johnson. The war chief, Joseph Brant, would become a commissioned officer of the British army and would lead dozens of raids into frontier towns throughout the revolutionary war.  On the other hand, the Oneida and parts of the Tuscarora were good friends with leaders amongst the patriot evangelical leadership. 
In the history books, many times it is said that the French were the first allies of the United States in the revolutionary war, but that is not true. That title rightfully belongs to the Oneida.  The Seneca and Cayuga took a more passive approach in supporting the British. Much of their leadership encouraged the warriors to stay out of the war, but they continued to supply large amounts of food to the British army.  This is what launched the Sullivan expedition in 1779. General John Sullivan marched up from Pennsylvania through the heart of the Cayuga and Seneca homeland destroying over 40 villages with thousands of acres of orchards and fields. 
The Father: For both of you, what was the most shocking element of this that you learned about that isn't common knowledge. For me, it was learning of the colonists sending smallpox infected blankets on purpose to natives as gifts. 
Andrew: It seems like we have a shocking element in every show. One of the biggest is that a Seneca Iroquois man ended the Civil War single handedly. Ely Parker was on General Grant's staff.  When General Lee (Not to be confused with the car) met with Grant it was Parker who wrote out the terms of surrender and had Lee sign them. Thus the Army of Virginia was dissolved and the war was basically over. Grant later made Parker the first Native person to be the Commissioner of Indian affairs.
Caleb: One thing that comes to mind is how ancient the Iroquois civilization could be. It was widely believed by many historians that the Iroquois confederacy was started in the 1400 or 1500s. The Six Nations have always insisted the confederacy has been around much longer, and they have some interesting evidence to support the claim. Every time a Tadadoho sachem is made, a mark would be recorded.  If you count the marks it would date back almost a thousand years. Another thing that comes to mind is Wampum. Wampum belts are those beautiful purple and white bead belts that have many uses in Iroquois culture. They are used for everything from telling stories, commemorating a treaty, and healing the sick. Although the Whelk and Quahog shells used to make to beads are not native to the Iroquois homeland, some wampum beads have been dated back over 4000 years.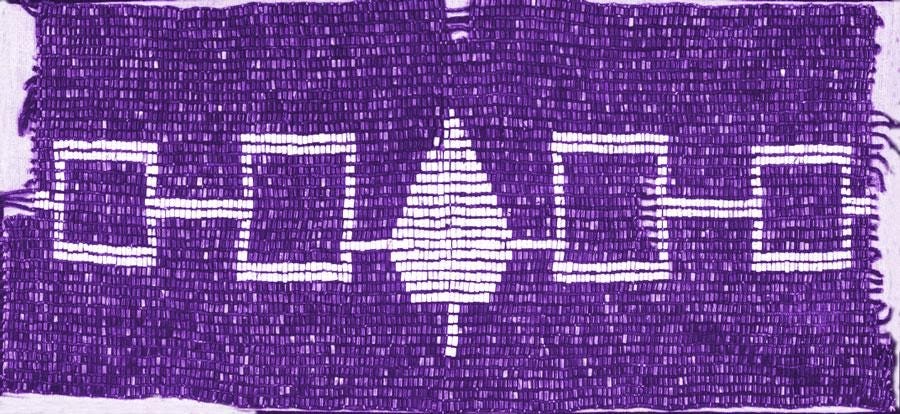 The Father: That is crazy. How have the Iroquois transitioned into modern times. A lot of tribes saw major decreases in census, tribal land and a slew of broken treaties from the US Government. I was reading recently about a Supreme Court decision that gave the Muscogee or Creek tribe jurisdiction over half of Oklahoma in a surprising turn of events. As I'm sure you know they would never have been there in the first place without the "Trail of Tears". Where have the Iroquois ended up?
Andrew: Today some Iroquois still have lands here in NY.  The Seneca and Tuscarora are in western NY, the Onondaga near Syracuse, and the Mohawk have territory that over laps NY and Canada.  Others have been persuaded to leave. You will find the Oneida in Green Bay, WI. A band of Seneca-Cayugas in Oklahoma and then members from all Six Nations have lands in Ontario, Canada as well.  This doesn't mention the thousands that live in their own homes not on reservations. All told there are over 120,000 people who belong to the Haudenosaunee Confederacy today.  Some of them are iron workers, doctors, actors, politicians, pro athletes and coaches, artists, authors, historians, business people and religious leaders. Even though they have been through a lot are still here.
The Father: That wraps up our interview for now (I would love to come back for some more specific situations as they become relevant culturally. Thank you to Caleb and Andrew for agreeing to do this with their busy schedules. Iroquois History and Legends is one of the best history podcasts out there, and it is an honor to share your story. If you enjoyed this article please share it! I would love for their audience to grow. This is critical historical knowledge for America as a whole, but especially those in the Northeast.