Discover more from The Duckpin
A media venture from veteran Maryland writer and podcaster Brian Griffiths. Politics, Culture, Entertainment, Sports, and More.
Over 24,000 subscribers
Has COVID-19 Killed Off the Kirwan Commission's $32 billion Spending Plan?
Will Maryland teachers union and their Democratic allies acknowledge COVID-19 budget realities?
Before COVID 19, the top agenda item of Maryland's teachers' union and their Democratic allies has been ramping up state spending to fund the Kirwan Commission's K-12 education recommendations. The price tag totals a staggering $32 billion over the next decade. Their eventual spending target hits $3.8 billion more per year.  The charge exceeds $5,000 per person when dividing Kirwan's total cost among 6 million people.
Under pre-COVID budget math, paying for the proposals would require a 39% increase in the personal income tax, an 89% increase in the sales tax, or a 535% increase in the state property tax.[i]  However, these estimates do not reflect this year's shortfalls.[ii]
Maryland closed its past fiscal year on June 30 with a $925 million tax revenue drop, according to State Budget Secretary David Brinkley. The state can expect to be down about $2 billion for the current fiscal year, 2021, because of the ongoing economic pandemic effects.[iii]
Comptroller Peter Franchot and the Bureau of Revenue Estimates had previously outlined in May a possible shortfall of approximately $2.8 billion during the final quarter of FY 2020.[iv] The impact represented a loss of nearly 15% to the state's annual general fund.  Maryland's withholding tax revenues had been declining by 22% or $185 million in monthly losses.[v]
In response, Gov. Larry Hogan has already proposed $1.45 billion in reductions from the state's fiscal 2021 budget.  This has mainly spared public K-12 schools for now.[vi]
Marylanders should not expect the Federal government to write a check to fill the gap.  The $2 trillion CARES Act package passed in March did contain some relief to state and local governments.  However, the law also required that funds be limited to paying for COVID-19 related expenses and not used to plug budget holes. [vii]
Before COVID-19, Maryland's Progressive House Democrats had floated a "Soak the Rich" tax increase plan. Their proposal claimed to generate an estimated $1.4 billion annually, a little less than half of Kirwan's yearly costs.  Among the features, the Progressive Democrats would impose a new higher tax bracket a 7% for millionaires.[viii]
We have seen this movie before. During the O'Malley years, Maryland added four new income tax brackets, including a top rate of 6.25% on income over $1 million.  That higher bracket was supposed to add over $100 million to state coffers. Instead revenues fell by $257 million because the number of "millionaire" tax returns tumbled sharply in a single year, a 30% drop in filers, and a 22% drop in declared income. A Bank of America Merrill Lynch analysis of federal tax return data of people migrating from one state to another concluded that Maryland lost over $1 billion of its net tax base from residents moving out of the state. [ix]
Spoiler alert for the House Progressive Democrats: A lot of rich people have two homes. Shifting residences to those states such as Florida and Texas without a personal income tax can produce huge savings.  Moves to Virginia or Pennsylvania can also deliver savings. 
In the past decade, high tax states such as California, New York, – and Maryland too - have experienced population out-migration, especially to lower-income tax jurisdictions. However, in the new COVID-19 world of remote working, more families, not just millionaires, will be able to take advantage of more tax advantageous locations. 
Union resistance to even a partial school reopening has tarnished their claims to be advocates of reduced educational inequality. Other public employees have selflessly stayed at work, including many healthcare and public safety workers, such as nurses and police officers.  Yet when presented with the opportunity to avoid COVID-19 induced educational inequality, Maryland's teachers' union chose to fight to keep their members missing in action.
So, will the Maryland Education Association and their Democratic allies acknowledge COVID-19 budget realities and that their Kirwan Commission's recommendations for increasing K-12 education spending have no realistic prospect of being funded now?
It remains to be seen how the legislature will respond to Governor Hogan's veto of the Kirwan legislation passed earlier this year. [x]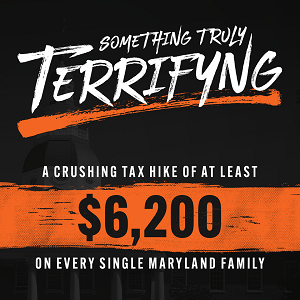 [i]https://www.baltimoresun.com/politics/bs-md-hogan-education-0817-20190817-g5d56mrf5fe3nhu34rcyfjoo5q-story.html
[ii]https://www.marylandtaxes.gov/covid/documents/COVID-19_General_Fund_Guidance_Applying_Moodys_Scenarios.pdf
[iii]https://www.newsbreak.com/news/1610845367038/maryland-says-it-needs-more-federal-aid-to-survive-economic-effects-of-covid-19
[iv]https://www.marylandtaxes.gov/media/2020/Comptroller%20Provides%20Updated%20Revenue%20Forecast%20in%20Light%20of%20COVID-19.pdf
[v]https://marylandtaxes.gov/covid/documents/WH_By_Industry.pdf?utm_medium=email&utm_source=govdelivery
[vi]https://www.npr.org/2020/08/03/895379435/maryland-says-it-needs-more-federal-aid-to-survive-economic-effects-of-covid-19
[vii]https://taxfoundation.org/treasury-guidance-on-state-aid-in-the-cares-act/
[viii]https://apnews.com/4562bcfa092ed9a362b447f4ce633719
[ix]https://www.baltimoresun.com/opinion/bs-xpm-2011-02-16-bs-ed-business-20110216-story.html
[x]https://governor.maryland.gov/wp-content/uploads/2020/05/Spending-Veto.pdf