Your 2020 NFL Preview, Part I: The AFC
The Road to Tampa (Hopefully) Begins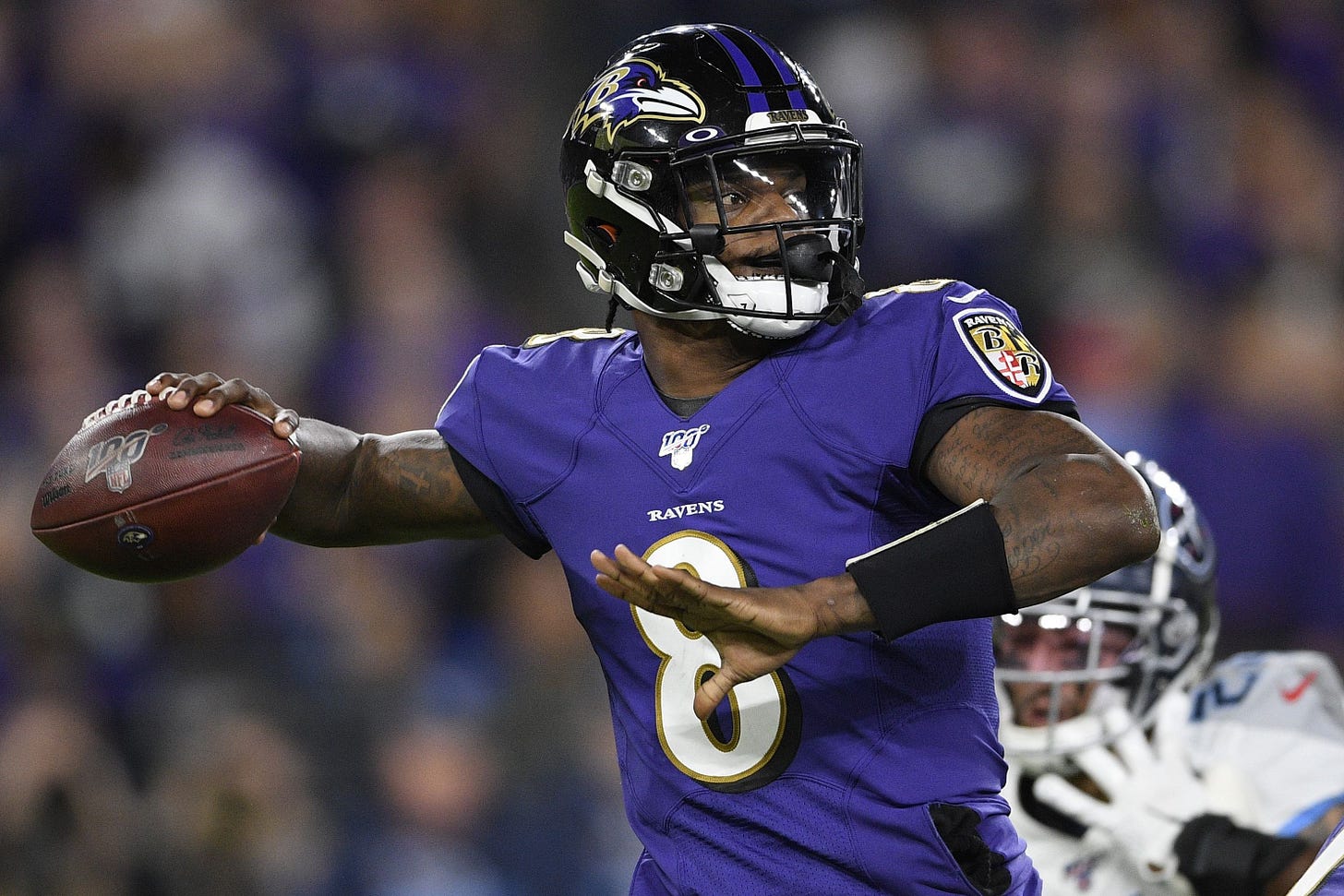 This NFL preview is going to be light on statistics and high on opinion. If you want statistical analysis, subscribe to The Athletic. This is just by gut feeling about a lot of things about to happen this year. Almost all of these opinions will turn out wrong. But let's have some fun anyway.
AFC EAST
Buffalo Bills: I think it's (finally) the Bills year. This may have more to do with other things going on in the AFC East than it does. They do have a brutal run of games to end the season; @49ers, Steelers, @Broncos, @Patriots, and Dolphins. But they bring back most of a team that got a taste of the playoffs last year and will be hungry to do more.

New England Patriots: If any other coach but Bill Belichek were the head coach of the Patriots or if the Patriots were not in the AFC East, I would not suggest this was a 2nd place team. Ther are a ton of question marks here, a ton of new personnel. Is Cam Newton healthy? Does Cam Newton fit in to the Patrs scheme? Who knows. Will this team figured out how to win 9 or 10 games anyway? Yeah, probably.

Miami Dolphins: This team could go 3-13 or 10-6 and I wouldn't be surprised either way. Is Tua the solution? I don't know. Is he healthy? I don't know. Did they overpay for Josh Rosen, a quarterback they traded for and then dumped after one year? Yes. But after years of being a total joke of a franchise, they don't appear to be very far from relevancy.

New York Jets: Are the Jets or the Browns the biggest dumpster fire in football? This year, we may finally learn that the Jets are the answer. Plus, always a good excuse to share this video.
AFC NORTH
Baltimore Ravens: Not a homer pick here. The Ravens went 14-2 last year with a young, mobile quarterback who got upset in their first playoff games. The year before, the Chiefs went 14-2 with a young, mobile quarterback and were upset in their second playoff game. We know where this movie is going. The Ravens return all their key personnel and probably are better than last year. The Earl Thomas thing would be a sideshow for most teams. But not this team. Tampa or bust.

Pittsburgh Steelers: No matter how often people (myself included) write-off this team, they still manage to make a run to the playoffs. Ben Roethlisberger is a 38-year old quarterback playing in the body of a 58-year old. The Steelers haven't figured out their QB of the future yet, by the way. But they have a stable of great backs and top quality wideouts. This team could make another playoff run.

Cleveland Browns: Is this finally the Browns year? I'll believe it when I see it. They team needs to get some sort of consistency in both leadership and quarterback play before they become relevant for more than fits and starts during a season.

Cincinnati Bengals: Fun fact: Bengals rookie quarterback Joe Burrows is older than the reigning NFL MVP (Lamar Jackson) and a twice-released 1st Round bust (Josh Rosen). The Bengals are another star-crossed franchise that will need several years to finally determine if they've gotten their act together. They won't be very good this year.
AFC SOUTH
Houston Texans: DeShaun Watson is one of the best quarterbacks in football, yet he's probably only the third-best quarterback in his conference (behind Mahomes and Jackson). Either way, the Texans are far and away the class of the AFC South and should easily win the South.

Tennessee Titans: The Titans are going to make it just a little harder on the Texans though with their late acquisition of stud DE Jadeveon Clowney. The Titans are coming off a surprise run to the AFC Title game last year, one which saw them choke up a 24-0 2nd quarter lead over the Chiefs. Will the hangover of that game linger over this team? Maybe. After all the Falcons haven't been the same since their Super Bowl LI loss. But still, the Titans are well-positioned to make another run to the playoffs.

Indianapolis Colts: I don't think Philip Rivers is the answer in Indy this year. The Colts really did not add a whole lot of firepower on either side of the ball in the off-season to improve upon their 7-9 record. The Colts don't look like they are going anywhere fast.
AFC WEST
Kansas City Chiefs: The Chiefs are the class of the AFC West and will be for at least the next five years. Will the reigning Super Bowl Champs be able to repeat? Maybe, of course. They certainly have the talent to do so, that's for sure and while the AFC West is one of the toughest divisions in football the Chiefs are just that much better than the other three teams in the division.

Las Vegas Raiders: Yes, the Raiders are going to be back this year. Henry Ruggs is going to likely be a steal for the Raiders, who took him 12th overall. Josh Jacobs might be the best running back in the league. And after 25-years of stadium woes, the Raiders finally have a home to call their own, a home-field advantage that will likely pay many dividends after the era of social distancing passes.

Denver Broncos: The Broncos are still a team in transition. They still don't have a franchise quarterback. The ownership situation is still a mess. They'll still probably be competitive and go 7-9 based on the fact that they have Courtland Sutton, Phillip Lindsay, and the newly added Melvin Gordon. And that alone ranks them over the…..

Los Angeles Chargers: Well, the defense should be pretty good. I'm not sure Tyrod Taylor is an improvement over Philip Rivers in the short-term, though he obviously is a bridge to rookie Justin Herbert. I'm guessing Herbert is starting by week 10, honestly. The Chargers went 5-11 last year, and I'm guessing they'll be going 5-11 this year as well.
PLAYOFF SEEDING
Baltimore Ravens (E)

Kansas City Chiefs (W)

Houston Texas (S)

Buffalo Bills (E)

Tennessee Titans (WC)

New England Patriots (WC)

Las Vegas Raiders (WC)
TOMORROW: The NFC and Super Bowl pick!